Thursday, October 25
I intended to wake up at six to do laundry and still be in the office in time to write an email...but I didn't get up until seven. Oops. So I took a semi-quick bucket bath (folks, it's really difficult to quickly wash your hair when you can only pour water on your head by the pint, and there is a limited amount of water), ate a breakfast of peanut butter and jam on a piece of white bread and a little piece of fry-bread, and headed out the door. It's about a twenty-five minute walk to the GSC office, past many pikipikis that all want you to hop on the back of their bike. So after a few Mambo's and Hapana, asante's (No, thank you), I made it to the office with enough time to write an email. Barely. I finished about two minutes before the car left.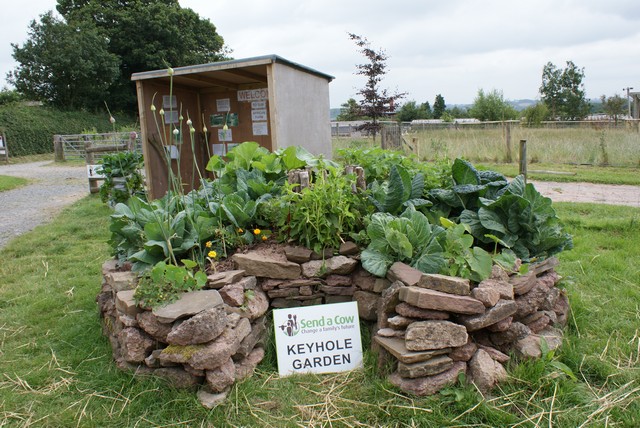 Example of a keyhole garden.
The village we have been teaching at this week is about an hour's drive from the office. So ten of us pile into the Landcruiser (much better than the thirteen of us that fit into one car on Monday; this Landcruiser is part off-road vehicle, part clown-car) and were on our way. The road to the village is paved part of the way, then it is a dirt road that gets progressively more rough the farther down it we drive. This week I have been working with the volunteers that are here for a semester abroad. We were in two groups, each training a separate group of people. Yesterday's training was to teach the group how to make a key-hole garden, by actually making one with them. So we walked over to one of the trainee's home and got to work. Making a keyhole garden involves measuring the circular pattern in the ground with the keyhole cut-out, laying bricks or rocks (we had bricks in this case) and slathering with mud as the binding agent, filling the center with soil and manure, and creating the irrigation system in the middle (a bundle sticks arranged in a circle with mulch filling the center). My favorite part is the mud slathering part. It makes a terrific mess and it is one of those few times as an adult where it is okay to play with dirt and get mud smeared on your cheek. Making the keyhole garden and answering questions took three-ish hours. We said goodbye to our trainees and left the village around two.
After we got back into Arusha we stopped for lunch. We have been stopping at a local restaurant each day after returning to Arusha. Yesterday I got something that I don't remember the name of. It was a delicious spiced rice with something like beef-stew. I really should start writing down names for things. The problem is that the names don't sound like anything I know, so I don't remember them. Lunch was delicious, and I splurged on a cold pineapple Fanta (sort of, soda is actually super cheap).
After lunch we went back to the GSC office and assisted in building another keyhole garden for GSC's demonstration garden. More mud-smearing. After we finished with that, we had a brief team-meeting, and reviewed what we will be doing next week. It was a our last day of training that week, because Friday is a national holiday, so everybody gets a three-day weekend. After the meeting is was time for Ultimate Frisbee, something I was looking forward to all week. Some locals play a pick-up game every Thursday around 5:30 until dark. Simeon, an American peace-corp type volunteer with GSC, and his wife drove us to the field. They have the cutest little boy named Malachi who also came to run around the field while we played Ultimate. This may have been the highlight of my week. It was so much fun to play Ultimate with some of the other volunteers and locals. I am already looking forward to next Thursday.
I rode back partway with Simeon's wife, Janelle, and Malachi. The traffic was pretty brutal and Malachi was having a hard time just sitting in the car, so Janelle and I sang a few songs to him. Janelle dropped me off on the main road at the turn off to their house and I planned to take a daladala up to my neighborhood. I was a little nervous about this because it was dark, and I was told I should avoid taking daladalas at night. Also, and this was the scariest for me, I had yet to ride a daladala with out a local to escort me through the whole process. But I was brave and waited at the daladala stand for a while. Eventually, after watching multiple jam-packed daladalas drive past without picking anybody up (really, where would they put anyone...I was about to find out), I decided to start walking in the direction of home and try to hop on a daladala past the traffic jam. Eventually I did get on one...it was also incredibly packed. So packed, in fact, that I was literally hanging out of the daladala with the conductor. The sliding door on the side of the van was wide open, and I was standing on the side with my entire body out of the car, clutching the car for dear life and also trying to keep a tight hold on my backpack to deter any pickpockets. Many people along the side of road thought it was hilarious to see me hanging off the side of the daladala, because I kept hearing people laughing and calling out, "Mzungu!" Good times. I have found that in these utterly ridiculous moments, it is best to just laugh and let it be.
Well, that worked to a point. I was trying to pay attention to where the daladala was, because I suspected that the conductor didn't actually understand where I wanted to get off. But then I got pretty distracted when, as I am hanging out of the side of the car with him, the conductor starts eying me, whispering to me in Swahili, and making kissing noises. So I missed my stop (see, unlike typical public transportation, daladalas don't have regular stops; you just tell the conductor where you want to get off and he has the driver stop there). By the time I realized that I had missed my stop, I had the hardest time trying to communicate to the conductor that I needed to get off, that I had gone too far. Eventually he had the driver stop, and I got off. I tried not to panic that I was now in a part of town that I didn't know where there were far fewer people (aka witnesses) walking around. I crossed the road and started walking back the direction I had come, hoping for another daladala to come along and pick me up. One did, thank goodness, and it was much less crowded. I wasn't about to make the same mistake twice, so I was very vigilant this time in watching for my stop, and eventually made it home in time for dinner (remember, dinner is late here; I got home around 8:30).
And so ended one of the more eventful days I have had in Arusha.